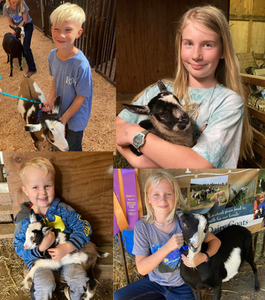 2022 Update and Calendar Contest
Hello!
I don't know about you but I cannot believe how fast this year has flown by! Our children keep growing like weeds and are keeping us more than busy with all of their activities. Just this week we had our first 4-H meeting for our girls and are excited to venture into market lambs this next year. We had lots of baby goats this spring and plan on enjoying fresh milk all winter long thanks to their mamas. 
We are so blessed to be able to keep providing milking solutions and so appreciative of everyone's patience as our lead times have been much longer than desirable as globally we are still dealing with supply chain issues. We are hopeful that we can place parts orders far enough in advance this fall to be well prepared for next Spring.  
We are excited to announce that we are bringing back our calendar contest! The last couple of years have seen its fair share of challenges for many of us and we believe that everyone could use a little bit of joy in their lives. We think that a calendar full of cute farm pictures can do just that!
    Calendar Contest - One grand prize winner will receive a $500 gift card to our website and have their entry featured on the cover of the calendar. The other winning submissions will receive a $100 gift card to our website and all winners will receive a copy of the finished calendar. After the contest, the calendars will be available for sale in time for Christmas presents! 
Entries can be photographs or art. Adults and children are both welcome to enter!  Submission ideas: farm life, baby animals, milking, milk creations (food, soap, etc).  We ask that you limit entries to items related to goats, sheep or cows.  You can enter 2 entries total (photograph or art) per person.  For example you could enter 2 photos, 2 pieces of artwork or 1 of each.     
What NOT to include:
  1. No farm names or product names other than simple PULSE   2. No photos of people     Open: Now! 
Close Date: November 11, 11:59 pm 
IMPORTANT NOTES: 1. All winners will be chosen at the subjective discretion of the owners and employees of simple PULSE. 
2. All entries must be the property of the person entering them and you give simple PULSE permission to use them in any marketing materials, this applies to text, photos and/or artwork. 
How to Enter: Email your entry to: sales@simplepulse.com along with your Name, Farm name, brief description of your entry, address and telephone number.  Entries missing that information are subject to disqualification. 
    Good luck!
Jesse and Cristen 
---